WordPress Managed Services
Your 24/7 support solution!
Enjoy peace of mind with FYWN's Managed Services for WordPress...
Knowing your site is in good hands with our in-house trusted support team means you can relax.
From 24/7 Uptime monitoring, complete malware scanning, and intruder alerting we have you covered.
Weekly Reporting
Updates, Security Notices, notes all included into one nice report for your viewing pleasure!
Advanced Support
24/7 Support means your site is always under our watch! Alerts, issues we have you covered!
Enhanced Security
Using the best of wordpress security we keep on top of all intrusion attempts and malware
Optimized for SPEED
Site loading an issue? Only the best will work here WP-Rocket & Imagify will have your site screaming!
Cloud Backups
We employ a robust backup solution that not only keeps your backups encrypted offsite but also backs up every time you make a change
Good Nights Sleep
With all this protection there is no more worrying about how your website is doing! Sleep well know you are in excellent hands.
Features
Search Engine Blacklist Monitor

Super Caching with WP-Rocket

Image Optimization with Imagify

WooCommerce Support & InstaBack
WP Patrol
Full Management & Updates
WP Guardian
Secure, Fast, Optimized
WP Secure Pro
WooCommerce, Secured, Updated, Complete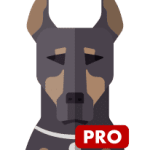 Enhanced Security with
WP Cerber ($120.00 Value)
Blocks malicious activity 
before it harms your data
A set of specialized request inspection algorithms screen incoming requests for malicious code patterns and traffic anomalies. Bot detection engine identifies and mitigates automated attacks.
Mitigates brute force and code injection attacks
Restricts access with GEO country rules
Prevents both REST API and ordinary user enumerations
Restricts access to REST API and XML-RPC
Uses a global list of IP addresses known for malicious activity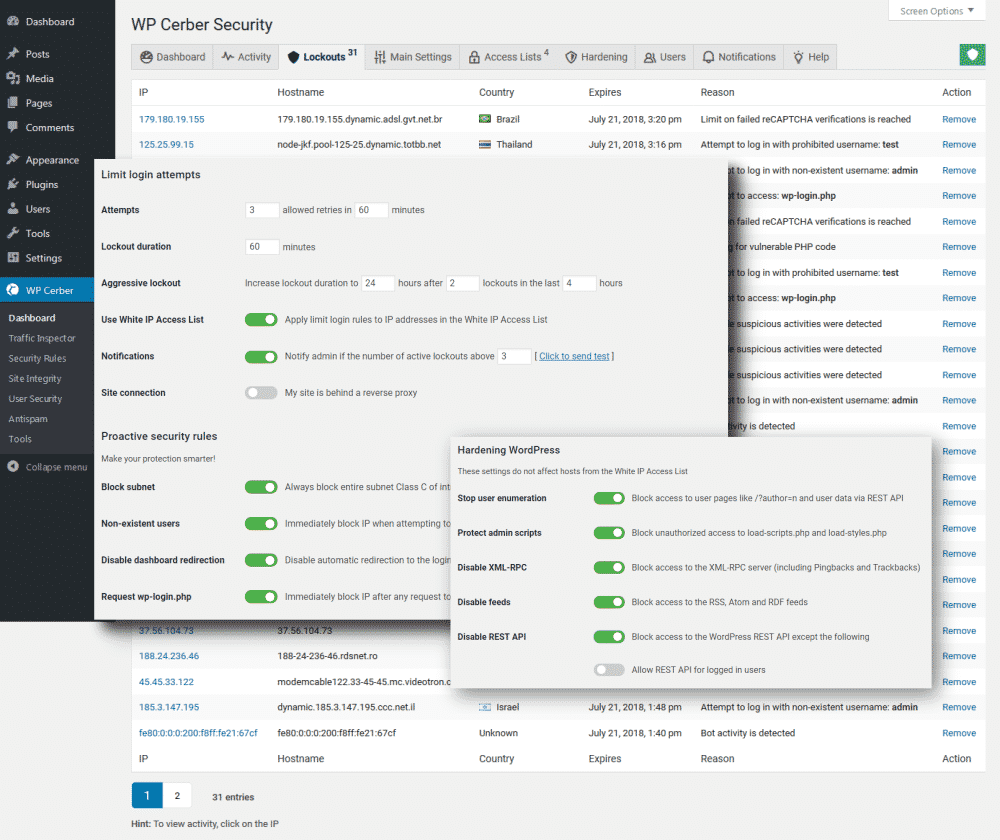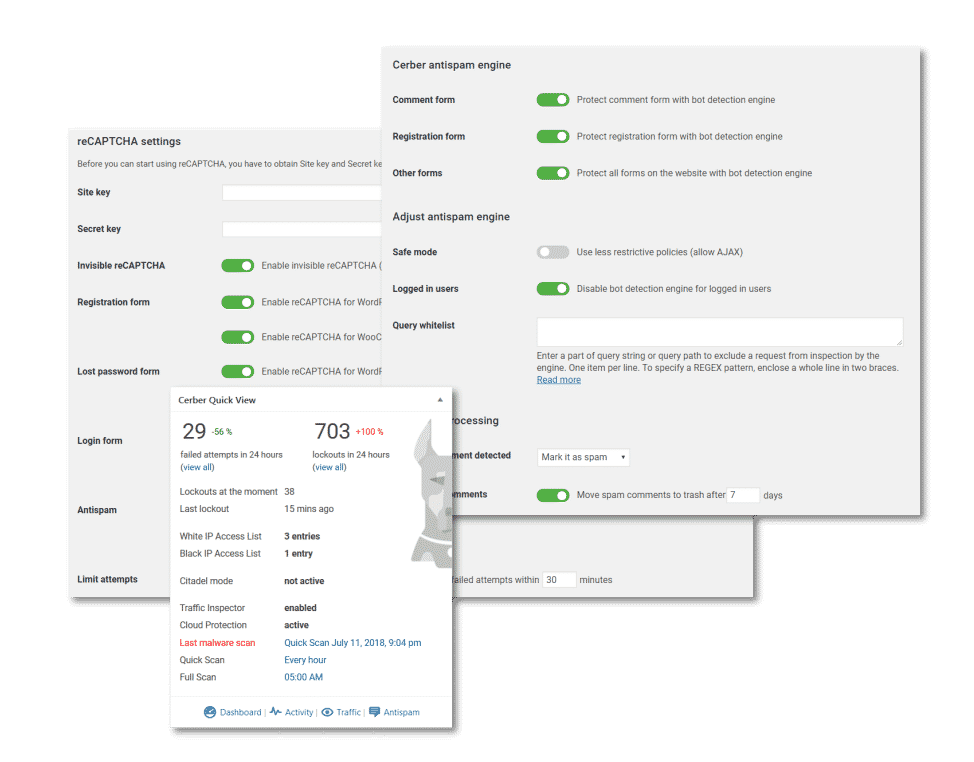 The most sophisticated 
anti-spam solution for WordPress
Detects bots by using heuristic and content-based algorithms. Checks IP against a real-time database of IP addresses known for disseminating spam, phishing attacks and other forms of malicious activity.
Anti-spam for all forms on a website
Protects WooCommerce forms and check-out page
Protects registration, lost password and login forms
Country rules restrict form submissions by a set of GEO rules
Automatically cleans up spam comments
Malware scanner & integrity checker

 alerts you to any changes

Thoroughly scans every file and folder on your website for malware, trojans, and viruses. Automatically removes malware and viruses. Monitors new, changed, and suspicious files.
Automatic virus, trojan, and malware removal
Automatic WordPress file recovery
Scheduled scans on an hourly and daily basis
Scans all files, WordPress themes and plugins
Scans all folders for new and modified files
Emails alerts and reports when it's needed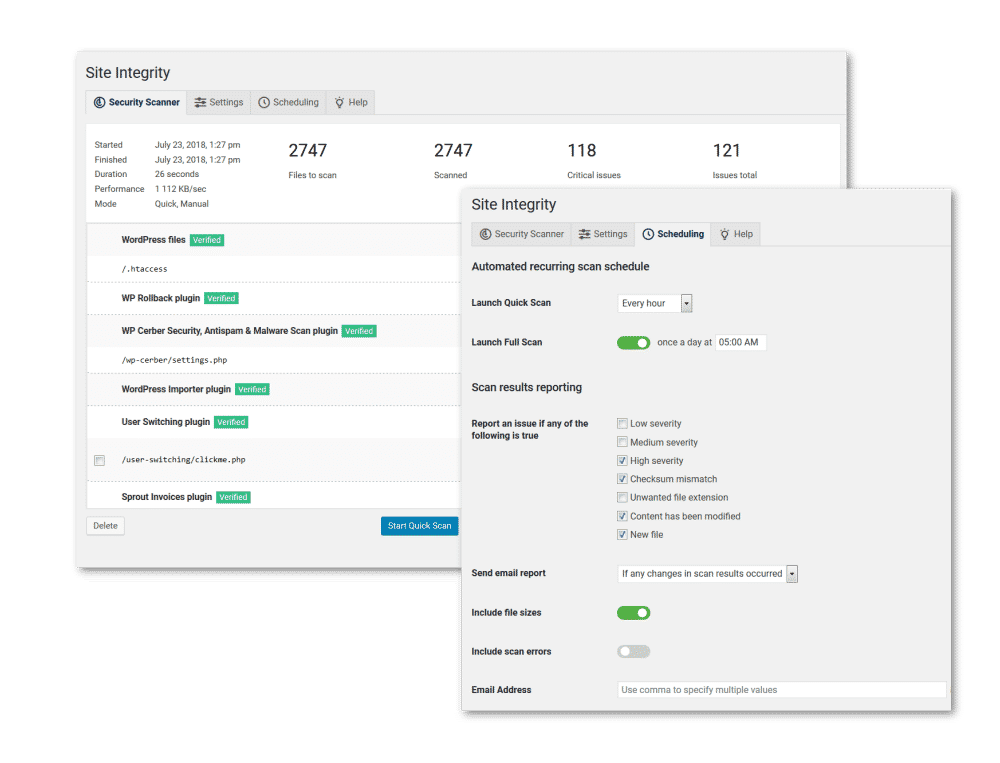 Super Caching with
WP Rocket & Imagify




Page 
Caching
Caching creates an ultra-fast load time, essential for improving Search Engine Optimization and increasing conversions. When you turn on WP Rocket, page caching is immediately activated.
Cache Preloading
Because our crawler simulates a visit to preload the cache, the indexing of your website by search engines is instantly improved.
Images on Request
Images are loaded only as your visitor scrolls down the page, improving the load time of the page. YouTube, Facebook, Yahoo and other major websites are using this technique. Now yours can too.
Static Files Compression
WP Rocket reduces the weight of your HTML, JavaScript and CSS files through minification. Lighter files means faster load time!
Speed up your websites
With lighter images you will gain in speed, user experience and even in SEO.
Save time
Stop fine-tuning your images, they are now automatically optimized.
Don't sacrifice quality
Reduce the weight of your images without sacrificing their quality. They will remain beautiful.
Speed up your website
with lighter images
Image optimization for everyone


Backup as you make changes
Every change that happens on your website is backed up immediately. This means that your backup is always up-to-date, automatically.

Protect your site from hackers
In the inevitable scenario of a hack, all you have to do is to restore the website to a point back in time, with a single click of a button.

Update with confidence
Your website is backed up every time an update is applied. In case an update breaks your site, a quick restore is just a click away.

Test your changes before making them live
When your website is critical to your business, you cannot afford any lapse in performance. That's why you can now test changes or updates in the Staging site before going live.
Files are selectively moved to the live site with a click of a button. No unzipping or manual effort.